Do not miss out on the cruise of the year where you do not have to be captain and alcohol is encouraged !!
The event is on Saturday 21st July, meeting at the Woodcocks for 6pm returning at 8:30pm.
Bring your own cocktails and drinks to suit, the club will provide a finger buffet.
Dogs are welcome..
Please email Members@burtonwatersboatclub.co.uk to book your place as they are limited!!
£10 per head and Payment needs to be handed in to a committee member or dropped in an envelope at 100 park lane prior to the event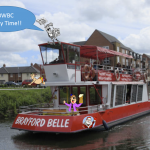 So get yourselves organised, spot the characters already lined up on the boat to indulge and join in the fun.
We look forward to tippling along with you all…
See the events menu for more information